Boss Baby Boy Vinyl Stickers, Party Vinyl Stickers, Boss Baby Balloon Stickers, Boss Baby Red Suit Decal Stickers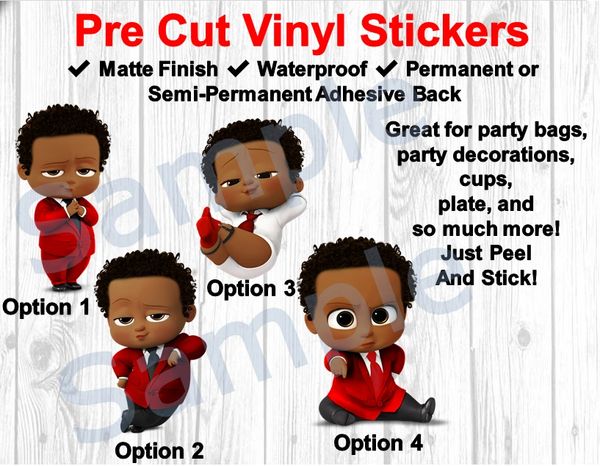 Description
*High Quality Vinyl Sticker - PRE-CUT!! Just peel and place!
*Matte White Finish, 4.7 Mil Thick, Waterproof
*Semi-permanent (low-tack) adhesive backing allows repositioning or easy removal (or permanent if left in place)
*Many Sizes Available

*We offer edible images and a variety of party items to make your event special!! If you do not see the image you want on the product, please contact me and I will list it for you. I can put any image on any of our products! Matching party items can be found in our store: https://ediblepartyimages.com  or in our Etsy store: https://www.etsy.com/shop/EdiblePartyImages

This listing is for one sheet of vinyl sticker(s) of the image you see in the listing photo. Image is printed with a commercial grade printer on a matte white finish vinyl sticker sheet. Choose your size from the drop down menu at the top. Use the stickers to decorate anything you want! The possibilities are endless! Perfect for party decorations and party goodie bags!

*FREE PERSONALIZATION*

If you want a message, the image will not be pre cut. It will be printed with your message above or beside the image and we will make a rectangle cut around the entire image and message. It will be cut to the size you specify but it will be on a white matte background. If you do not want a message, the image will be precut with no background.

*SHIPPING AND RETURNS*

FREE Shipping is offered for multiple items on one order. You only pay one shipping charge!

The stickers are shipped first class mail. We do offer priority mail and express mail. Priority mail is estimated for 2-4 days but not guaranteed by any specific date. Express mail is guaranteed for a 1-2 day delivery.
All of our products are custom made to order and we do NOT offer refunds. We will send a replacement if your order arrives damaged or if we determine that we have made a mistake on your order.

*DISCLAIMER*

GRAPHICS EDITING SERVICE. All of our services and designs are only to be used for one time PERSONAL use and are NOT to be re-sold in any way or for any reason. We DO NOT claim ownership over the characters or images used in your custom personalized item, they belong to their respective copyright holders and distributed by authorized dealers only.