Princess Ballerina Baby Girl Centerpiece with Stand OR Cut Outs, Light Pink Gold Tiara, Baby Shower Centerpieces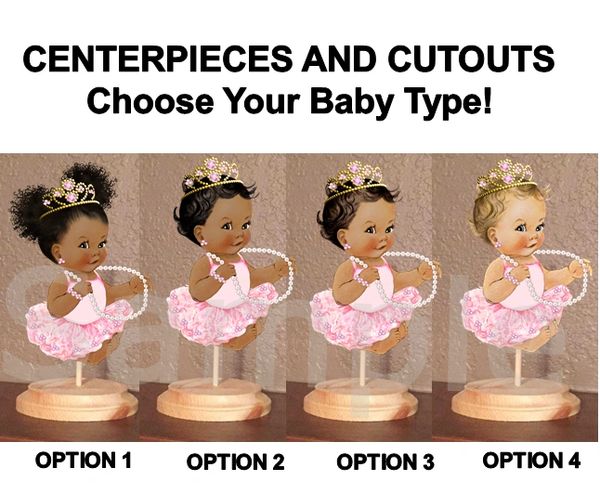 Description
-Centerpieces and/or Cutouts
-Made to Order/Various Sizes
-Printed on premium high-quality professional photo paper. Colors are AMAZING and will reflect very close to what you see on your screen.
-Pick what you want from the drop down menu at the top.


************READ ENTIRE DESCRIPTION BEFORE PURCHASING!!!!************
--Centerpieces--
The centerpieces come fully assembled with a wood stick and wood base, double sided. They do stand on their own. They are sold as each and come pre-cut. The wood base measures 4x4 around and will come in the wood color shown in my listing photo.  They can be decorated and painted anyway you want!

--Cutouts—
The cutouts are sold in pairs, one facing right and one facing left.  They do come pre-cut.  They are blank on the other side. They can be placed back to back if you want to make your own centerpieces or decorations.  Cutouts do NOT come assembled and will NOT stand on their own.  They are thicker than standard paper but not super thick. You only get the cutouts, not the wood stick or base. You can decorate with them any way you want.

Please contact me if you need another size.  The tallest I can make is 16" and the smallest I can make is 5".  Bulk pricing is available.
************OTHER ITEMS************
We can put the image you are purchasing on any of our items so please contact us if you don't see what you want!

Check our website for more images and themes.
www.ediblepartyimages.com

Thank you and have a blessed day!! We appreciate our customers!!
************DISCLAIMER************
GRAPHICS EDITING SERVICE. All of our services and designs are only to be used for one-time PERSONAL use and are NOT to be re-sold in any way or for any reason. The fees charged in each listing are for time, effort, and supplies used to create your custom edible image cake topper. Any character images used in your custom design are NOT being sold. We DO NOT claim ownership over the characters or images used in your custom personalized item, they belong to their respective copyright holders and distributed by authorized dealers only.